Lots of People and disciplines visited the learned wise man to attain nirvana. They were grumpy about the same tribulations in their lives all the time and wanted the answer to the entire similar problems they were facing on daily basis.
Wise man was also disturbed seeing their state and to make them happy he told them a joke, which made all of them laugh.
The villagers came back the next day told the wise man the same complaints and wanted an instant solution.
Wise man narrated to the villagers the same joke and now only a few of them smiled.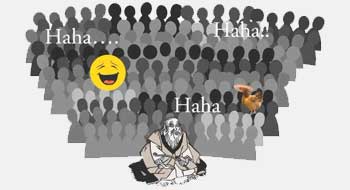 When he stated the same joke for the third time to his devotes day after when they came back with same complaints, no one laughed any more. In fact they were annoyed from him for telling the same joke daily
The wise man smiled and said:
" When you all cannot laugh at the identical joke over and over, why are you always weepy about the identical issues?"
Moral of the story
Repeated Worrying will never solve your problem but would just waste your time and energy. Live on daily basis and count your blessings.

CK BIRLA HOSPITAL
Block J, Mayfield Garden,
Sector 51, Gurgaon, Haryana